During this pandemic, millions are seeking homeschooling resources before they lose their freaking minds. How do you even begin when you've zero experience in anything like this?! Of course, as a parent, you're used to learning through play, but there's real anxiety out there from parents who are expected to work from home AND homeschool.
The best way to deal with it, is by finding as many reputable resources as possible.
7 Easy Homeschooling Resources For The Uninitiated
Please note that this page may contain affiliate links
The first four resources are all available inside the Stay At Home Survival Bundle which includes 11 workbooks & printables, 5 eCourses, 4 eBooks & a summit. All of the products are worth $493.19 and you can get them for $24.97 for a limited time.

Once the bundle runs out, I will be updating the post to the full price products. The reason I've included these homeschooling resources is that they're REPUTABLE and there's is a 30-day Happiness Guarantee included, which isn't always common with digital products.
The team behind Ultimate Bundles are incredibly diligent when selecting their products for their bundles. They've done all of the hard work for you in that respect. Now it's your turn to pick up the baton.
"DOES YOUR LIFE FEEL CHAOTIC AND OUT OF CONTROL?
2020 has turned into the year no one expected.
And many of us are still struggling to find a routine after our world has been turned upside down.
Whether you find yourself wondering how to entertain your toddler until lunchtime, coming up with creative meals from your pantry, or figuring out how to work from home, you can do this! And we want to help.
That's why we put together The Stay at Home Survival Bundle – to give you tips, tricks, and strategies to take care of yourself, your family, and your home (and keep your sanity in the process ;))."
Back to Basics: The Screen Time Formula eCourse
by Nicolle Embra $67.00
With this course, you can finally figure out your family's screen time formula. That means you can control the kids screen time to encourage their focus and motivation during your homeschooling lessons.
Digital Homeschool Convention: America Homeschools Summit
by Holly Chubb $39.00

A crash course in how to homeschool when you never imagined you would be homeschooling. I'm sure it's a position that millions of parents are experiencing right now. Having a guide to follow is going to make the entire process so much easier.
Your Footprint: 64 Ways for you to Save the Planet Ebook
by Fiona Sims
$5.88

Learn different ways that you can make changes or adjustments in your life to help save the planet and it can lead to some fun creative homeschool projects with the kids. They could create a diorama, or a display as if you were to have your own science fair at home. You can make this process fun and enjoyable. Learning through play is incredibly powerful so don't be afraid to integrate creativity into your classroom.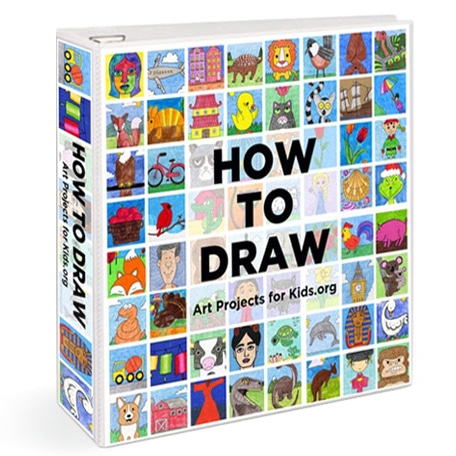 How to Draw Workbook
by Kathy Barbro $25.00
It is a jumbo collection of 200 tutorials created over the twenty years of drawing with children in an elementary school. Kathy worked with kinder through 5th grade and learned what worked, and what didn't, and what supported the best results for the most students possible. You can keep this as an ebook or print to make your own binder, as all the artwork is included.
How To Doodle The Easiest Way Possible + Trace Over Sheets
This video was created for adults who want to learn to doodle in their bullet journal, however, it is entirely applicable for anyone at all. Doodling is an easy skill to attain but to make it easier, I also created some practice sheets to trace over when building that muscle memory. The tracing will be very helpful for kids but older teens may feel comfortable or more confident just doing it freehand.
Print Handwriting Worksheets
I originally created this post on how to improve your handwriting with a view to helping adults improve their terrible writing. After suffering injuries and losing grip in my hands, I ended up having to retrain my handwriting twice within the space of a few years. So, I condensed my favourite tips and resources into a handy guide. You can check it out and develop your own way of training your little ones
Worthy Homeschooling Resources Worth A Mention